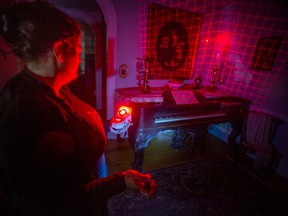 Article content
Careful what you say — it turns out ghosts in Essex County can't take a joke.
Advertisement 2
This advertisement has not loaded yet, but your article continues below.
Article content
The staff at Amherstburg's Park House Museum have grown accustomed to mysterious footsteps, disembodied voices, and bumps in the night.
Article content
For anyone among the living who is brave enough, the museum has joined forces with paranormal investigators to share the chills and give the public some close-up encounters.
Read on, if you dare, for a taste of what might be in store.
"There was myself and two other students sitting in the office downstairs," said museum curator Stephanie Pouget, recalling a shocking incident from 2021.
"We were joking around about ghosts. And the clock lifted right up off the wall, started shaking in the air and dropped right down to the ground."
In 2017, the museum started bringing in P03 Paranormal, a local team that travels North America in search of ghosts, for an ongoing series of public hunts.
Advertisement 3
This advertisement has not loaded yet, but your article continues below.
Article content
PO3 Paranormal, which can be found on Facebook, also does ghost hunts at other locations around Essex County.
The first Park House hunt of 2023 was on Friday — the 13th.
"That always has a fun ring to it," said Pouget.
The public investigations cost $25 for a two-hour hunt.
"They're smaller, more intimate events, so we only sell approximately eight tickets per time slot," said Pouget.
The P03 team members bring patrons along as they use high-tech gadgets including electronic voice phenomenon (EVP) recorders, laser grids, and electromagnetic field (EMF) meters to ferret out apparitions haunting the historic building.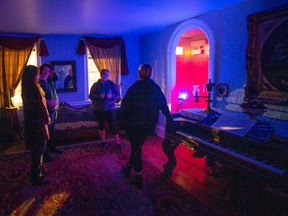 Park House was built in Detroit in 1796. Shortly after Britain surrendered Detroit to the recently formed U.S. army, the British loyalist who owned the house had it disassembled and moved by canoe to the new fort in Amherstburg.
Advertisement 4
This advertisement has not loaded yet, but your article continues below.
Article content
The house went through many owners, including the Park family, which held it for more than 100 years.
It served several purposes, including as a medical office, merchandising business and antique store, before it was moved to the Amherstburg Navy Yard and opened as a museum in 1973.
The federal government designated the house a National Historic Site in 2018.
It's older than any building in Essex County or Detroit.
The museum was also featured this month on an episode of APTN's Ghost Hunters of the Grand River.
The point is, if ghosts were going to pop up, it would be at a place with this much history. And pop up they have.
"All the time," said Pouget. "We always have voices come over the voice box. They get some recordings. There are light orbs. We constantly get reports from visitors, as well as staff, of experiences they've had here.
Advertisement 5
This advertisement has not loaded yet, but your article continues below.
Article content
"So it doesn't need to be on a paranormal day. It happens on a regular basis. We've definitely heard things. You can hear footsteps on the second floor walking around. You can hear people singing."
But we're talking about more than sounds and voices here.
"We have a door that likes to open and close on its own," said Pouget. "We have this back haunted staircase where everybody always see shadows. We've had reports of people being chased down the stairs. Things like that."
It's OK if you're sceptical. So is Pouget. Well, she used to be.
"I didn't believe it," she said. "I'm a math and science girl so I always try to explain everything first. You definitely come to an understanding that they don't bother me and I don't bother them."
The next ghost tour isn't scheduled yet, but the museum's full 2023 schedule is coming soon. For more information about events, including ghost hunts and less haunted affairs such as immersive tours, historical programs, afternoon tea, and cooking experiences, go online to parkhousemuseum.com.
"Paranormal, Ghosts, Hauntings" – Google News