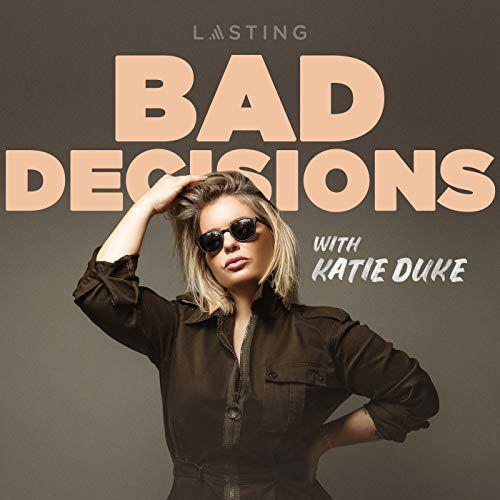 Katie Duke comes from a family of nurses — her mom, aunt, sister, cousins. The St. Louis native (Notre Dame High School, 1999) is a nurse practitioner herself, but after spending years in hospitals, she's steering onto a less traditional path.
"I actually quit my full-time job a few months ago and am pursuing my podcast and my social media content creator and mentoring work full time," says Duke, who lives in New York City.
She launched her podcast, "Bad Decisions With Katie Duke," in December 2019. A second season started March 16.
"I had kind of secretly wanted a podcast for a while, but I did not have the wherewithal to put it together," she says. "So around October 2019, these two guys based in Nashville — they own a production company — they reached out to me. 'Hey, you need a podcast. We would like to work with you.' It kind of haphazardly, in a good way, fell in my lap."
Duke usually records a few months of episodes at a time — "a lot of talking in a matter of a few days," she says — but it works with her schedule.
(Video includes profanity)
"I always knew that I wanted to make 'Bad Decisions' sort of my brand, and when you really think about my whole life story, that pretty much sums it up," she says. "We all make bad choices. And instead of just wallowing around in our grief of what we've done, we have to realize that there's actually a very good lesson buried somewhere in there that can make us a much stronger person or contribute to our story along the way."
Most of Duke's audience works in health care, she says, but "Bad Decisions" isn't intended to be a health care podcast.
"(Nurses) need people with a public platform to say things that they might not be comfortable saying," she says.
Early in the pandemic, while working a crisis assignment at a New York hospital, Duke contracted COVID-19 and was hospitalized herself for two weeks. The three episodes in which she details that experience and her long recovery are the show's most popular. Other top episodes address job burnout and abusive relationships.
"I just try to make it very conversational to where you can listen to it driving to work, you can listen to it at the gym, you can have it on in the kitchen while making dinner with your husband — but not your kids, because they'll be cursing up a (expletive)storm."
Duke acknowledges that "Bad Decisions" isn't for everyone. But she's OK with that. She just wants to make content that's authentic to her and her passion.
"A lot of people are like, 'My god, do you have enough bad decisions for a whole 'nother season?'" Duke says. "Actually, yes. Yes I do. It's good podcast content." By Gabe Hartwig
"Paranormal, Ghosts, Hauntings" – Google News