DECATUR — See you later, alligator.
And it certainly has been a while, crocodile, since any alligators have been fished out of Lake Decatur. But that has happened on several occasions, and we've got the pictures to prove it.
Which turned out to be one of the more surprising conclusions to be reeled in from the Herald & Review's efforts to plumb the depths of urban legend about alligators living in our very Midwest lake. Yes, Virginia, crocodilians (the 83.5 million-year-old family of predatory, semi-aquatic reptiles that include alligators) really have swam in the same waters you dangle your toes in from the boat docks.
Trolling through the newspaper's extensive archives, we find the earliest reference to alligators in the lake dating from the May 1, 1937, edition of the then Decatur Herald, the morning paper. Dan Burnett, a printer employed by the Herald said he saw an alligator, no mention of size, near the waters of what was then the "Moose Country Club."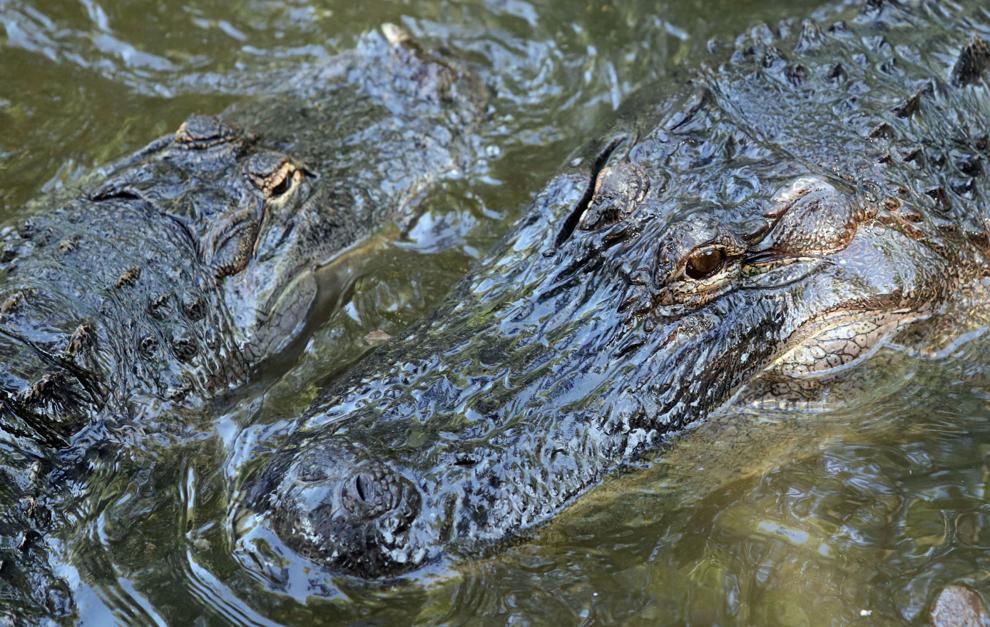 In May 1959, a baby alligator — 12 inches long — was plucked off the banks of the Sangamon River "near the old lake dam" by Henry Hill and Thomas Currie. This time there was a nice two-newspaper-column-wide picture of the alligator with a makeshift string leash tied around its neck, topping the story on page 3 of the Monday, May 25, edition of the Decatur Daily Review, the then evening paper.
Under the headline "Alligators Moving North?" the story said: "Hill and Currie did not know the explanation for the reptile's running loose at the lake."
Another picture was to come of a similar-sized foot-long beast on Oct. 26, 1966, this one being held by the man who found it, Richard Stubblefield. Reporter Nancy Jo Batman of the Daily Review said the alligator, nicknamed "Stubby," was one of 12 similar sized critters all swimming together with a "mother" alligator Stubblefield estimated at four to six feet in length.
Surrounded by doubters, Stubblefield had brought the foot-long alligator he had captured into work with him at Soy Ford to show his co-workers it was really true. Batman quotes the wife of one of Stubblefield's co-workers as saying the sight of the alligator had changed her view of the quiet, peaceful lake.
"She told her husband 'I'm glad we sold the motorboat, now we'll put the floatboat up for sale'," according to Batman's story.
The alligators of Lake Decatur have taken on local lore status. The songwriter Sufjan Stevens included the line "down to the river where they caught a wild alligator" in the song "Decatur, Or, Round of Applause for Your Stepmother!" on his 2005 album "Illinoise," which also mentions the famous chicken car and Caterpillar. 
From the Daily Review of June 27, 1967, we have a short story on page 22 of one 22-year-old David Maple, 895 West Eldorado St., stepping on a 10-inch 'gator in the front yard of his home. "Maple said he plans to keep the alligator for the time being, but has not decided its long-run future," said the story.
Where were all these alien creatures coming from? One explanation could lie in a Decatur Herald quarter page ad from June 10, 1967, placed by the Standard pet store, 919 East Wood St. "What better way to keep your children occupied than with a pet of their own?," said the ad. "It's educational, too! They learn the responsibility of caring for animals."
The 18 pet choices listed included your standard hamsters, puppies and kittens but also mentioned "alligators."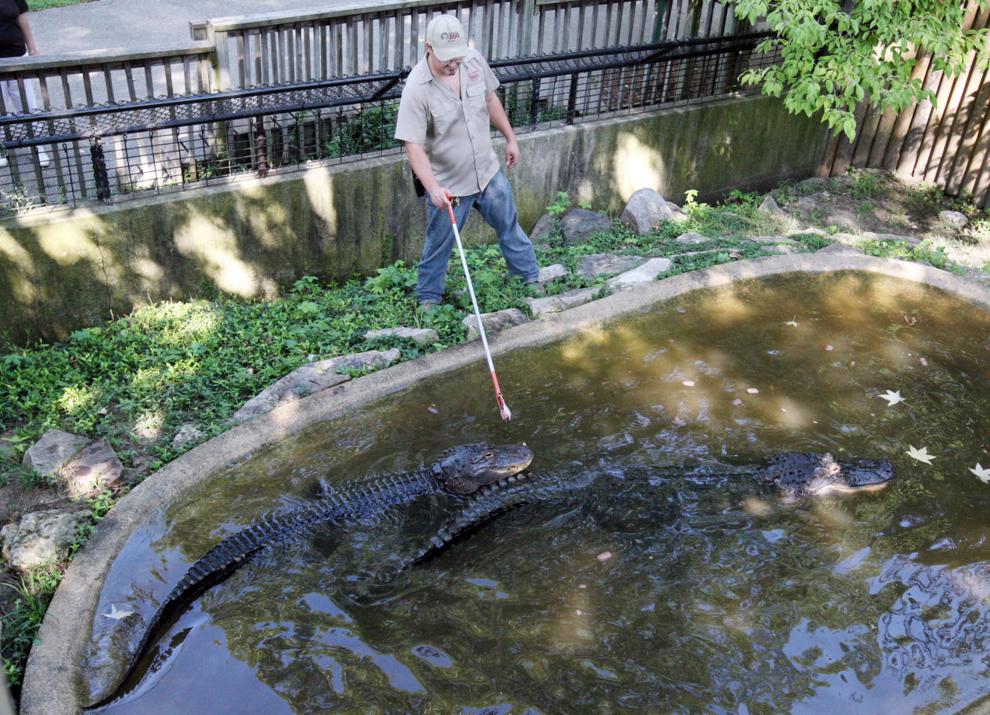 It doesn't take too much imagination to see a parade of alligators, having outgrown their usefulness as fun and educational pets, being dumped in a nearby lake. Scott Ballard, a herpetologist (reptile expert) with the Illinois Department of Natural Resources said alligators can grow fast: "If kept in optimal conditions, they can grow a foot a year," he warned.
"And an alligator that is a foot-long baby is going to be 4-feet-long in three years and isn't going to fit in a 10 gallon aquarium."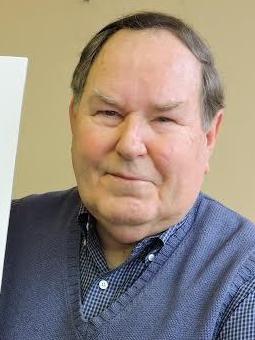 It's now illegal to own an alligator in Illinois unless you have a license, carry liability insurance and plan to use your alligator in a prescribed number of yearly education programs. Ballard said a creature which can live for 80 years, reach lengths of 13 feet, weigh close to 800 pounds and likes to hunt its living dinner is not suitable for being a household pet.
"And we confiscate between 12 and 13 crocodilians a year in Illinois," said Ballard. "I think there was an 8-foot one we confiscated once in Chicago; you never know what's in people's houses."
He said dumping alligators into a body of water far north of their natural range is cruel — both to them, and the local wildlife. The alligators, he said, will face a nasty slow death as the seasons turn and the weather gets cold and finally freezes. And, while they live, the indigenous critters surrounding them in their strange new world suddenly have a new apex predator to contend with. Ballard does not believe a family of alligators could survive long-term in Lake Decatur.
"We either find them or they end up freezing to death," he added.
There are other views on that, however, and while Decatur's 'gator sightings seemed to have dried up after the Swinging '60s, some believe it doesn't mean they're not there. Loren Coleman, a Decatur native who is now founder and director of the International Cryptozoology Museum in Portland, Maine, said you should never let "assume" make an ass out of you and me when dealing with the unknown.
His museum is devoted to the study of mythical creatures like the Loch Ness Monster and Bigfoot, but he also takes a lively interest in unusual animals that end up displaced from their natural habitats. "In my book "Mysterious America" there is a whole chapter on alligators in the sewer," said Coleman.
The fabled beasts of the New York City drainage system spring to mind but Coleman said Decatur alligator sightings also made it into the pages of Mysterious America. "I listed all the Decatur incidents I could get, and there was several of them," he added.
Coleman said there have been credible sightings of alligators to 5 and 7 feet in bodies of water as far north as Michigan, and so it appears the creature of steamy Southern swamps can live for some time in colder climates. Coleman said any hot water discharges into Lake Decatur from processing plants could also change the ecology of the water.
"And alligators are very secretive," he added. "Not easy to see."
All of which you might take with a gulp of salt until you read a UPI story from Oct. 2, 1992, which details how a Cahokia policeman called Gary Craig pulled a 6 pound alligator out of the rather cold waters of Baldwin Lake in Southern Illinois. It had chomped down on a rubber minnow and the theory is it was able to survive in waters warmed by a discharge from a power plant.
Retired Millikin University English professor Dan Guillory said he has no idea if alligators yet prowl Lake Decatur's murky waters, but he can understand our fascination with them. The Louisiana native is very familiar with the allure of the monstrous creatures and gave them a starring role in his first book of collected poems, "The Alligator Inventions," which came out in 1992.
Guillory said alligators are that walk on the wide side of the animal kingdom we don't get much here in Central Illinois.
"They're living members of the dinosaur family, they go back that far," he added. "So they are survivors, first of all, and there is a kind of dignity in that. And they're also magnificent creatures with a kind of brooding, sulky nobility about them. They have endured, and they are truly vicious, and you can't help but have great respect for them."
CORRECTION: A Tate & Lyle official said the company does not discharge hot water into Lake Decatur. An earlier version of this story had the incorrect information. 
Contact Tony Reid at (217) 421-7977. Follow him on Twitter: @TonyJReid
"Cryptozoology" – Google News