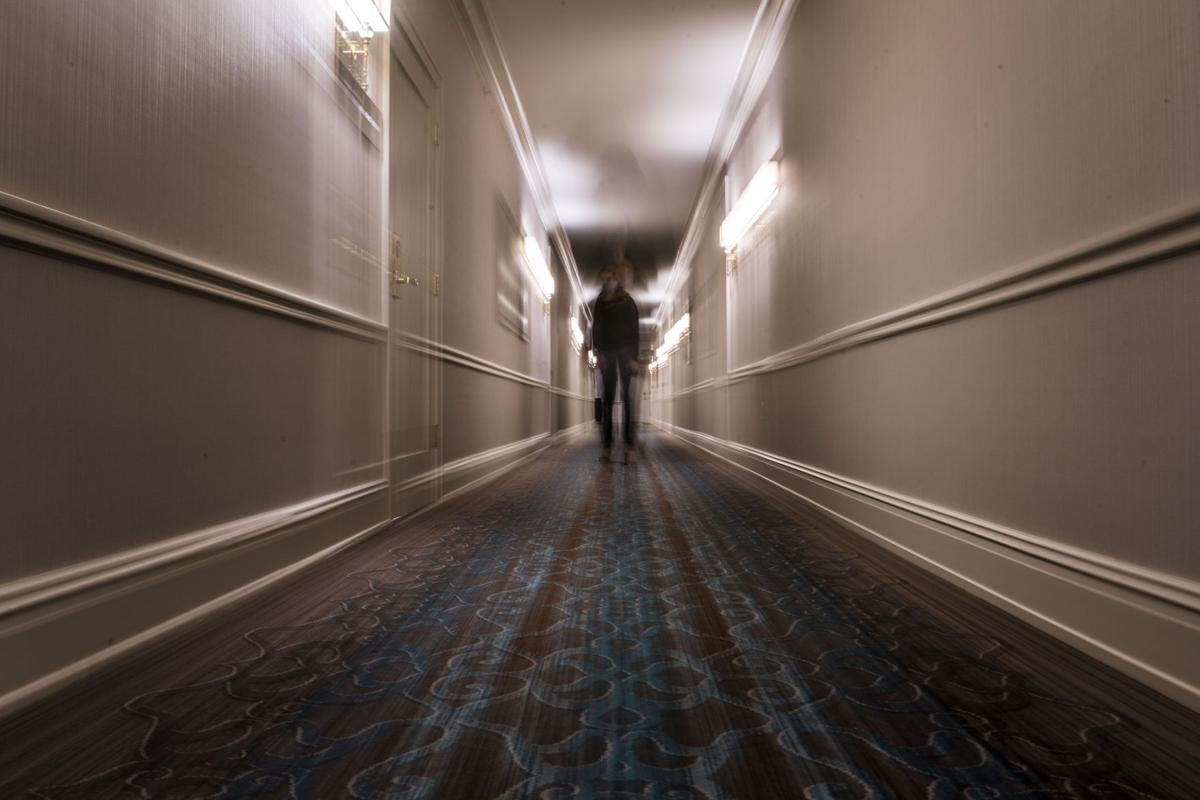 Could you spend the night at a haunted hotel?
We all know what happened at the Overlook Hotel in "The Shining." Ghostly bartender and creepy hallway twins notwithstanding, some guests actually want to encounter a ghost during their overnight stay. Paranormal tourism has grown in popularity over the decades, with some hotels advertising ghosts to attract the living.
The Morse Mill Hotel in Hillsboro lists K2 meters and flashlights among its amenities; guests use them to look for paranormal activity inside the pre-Civil War building. The Mineral Springs Hotel in Alton, now repurposed as an antiques mall, offers ghost tours year-round. At the Original Springs Hotel in Okawville, Illinois, about 45 miles east of St. Louis, guests can get a mineral bath in the spa before looking for a ghost that may also be attracted by the waters' healing properties.
Here are the stories of three other local places where your stay might include more than one bump in the night.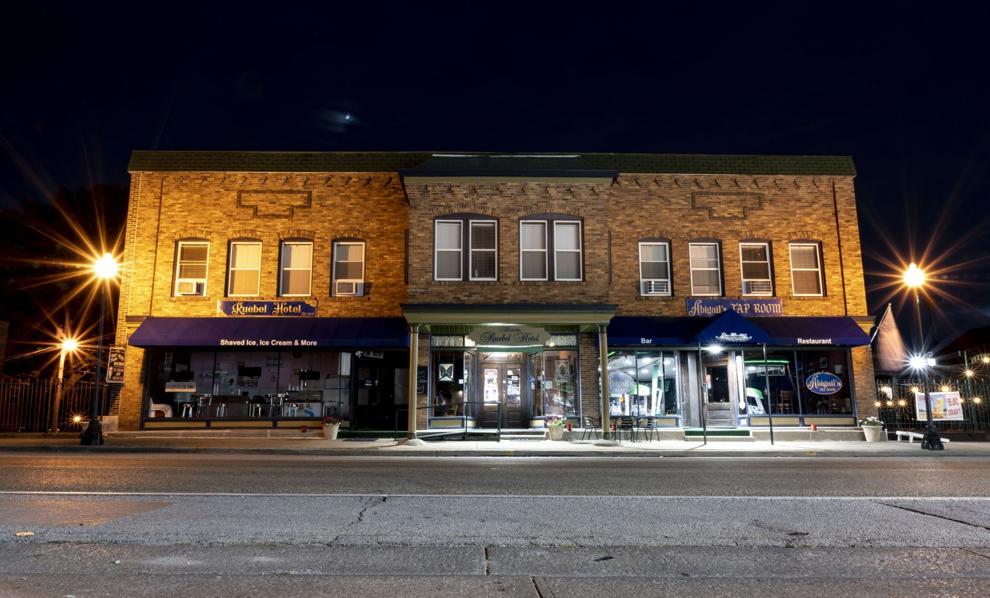 The Ruebel Hotel
When Karen and Mo Khamee bought the historic Ruebel Hotel in Grafton in 2008 as a semi-retirement project, they didn't realize how much full-time work it would entail, nor did they know the hotel came with so many ghosts.
The ghosts like to run up and down the hallways, hide silverware and keys, even turn on the water at the bar sink and leave it on, flooding into the apartment space below.
"I'm Catholic, and we're not supposed to believe in ghosts or witches," said Karen Khamee. "I think there's activity by something or someone."
The hotel was built in 1879 and in its early days served travelers and workers coming from paddleboats and other traffic along the river. They'd stay the night for a nickel, or simply stay to take a shower for a penny. If families traveled and a member got sick, that person might stay behind at the hotel under the care of another family. Their family would return later to pick them up, alive or dead.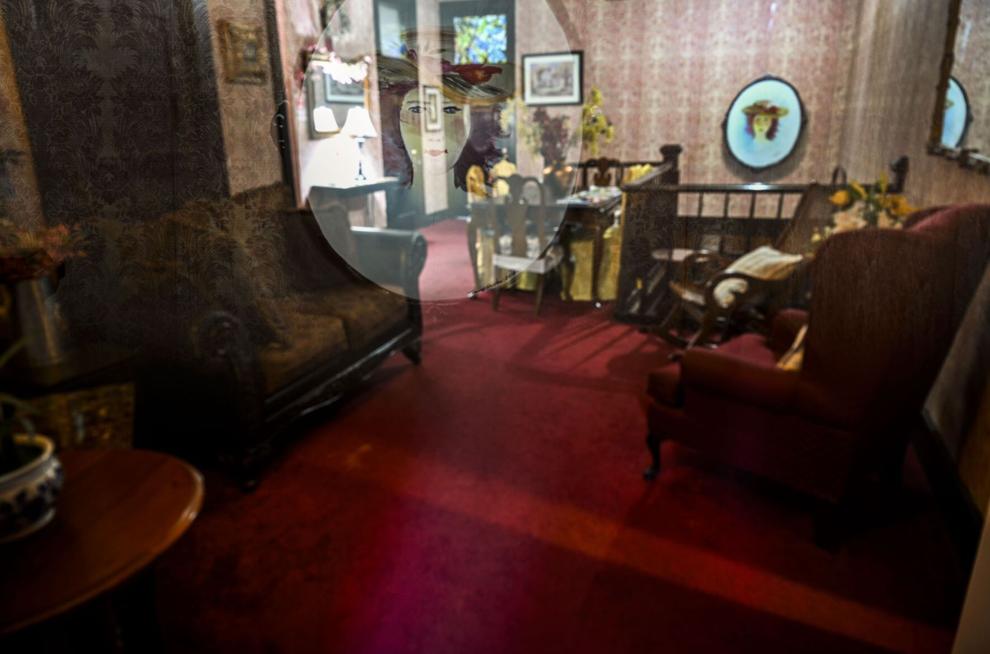 One ghost is that of a little girl known as Abigail, who may have died of a disease at the hotel. Some guests have seen her, Karen Khamee said, but she herself has not. A depiction of her is painted in the stairwell, and the hotel restaurant is named Abigail's Tap Room, which includes an elaborate wooden bar that was used at the 1904 World's Fair.
After the Khamees first bought the hotel, they stayed in an apartment in the lower level. Once, in the middle of the night, Karen Khamee woke up with chills and heard running above her. She woke up her husband and told him that somebody was running upstairs. He assured her that nobody was, that he had locked all the doors and that she was dreaming. She tried to fall asleep and then heard the running again. When she went upstairs to investigate, she opened the bar door, and the telephone rang. She picked it up, and nobody was there. She hung it up, and the lights on the phone started blinking.
"I said, OK, you're not scaring me. What's going on?" She walked around the entire hotel, and nobody was there. "Somebody was running," she insists. "That is one thing that I truly heard and saw."
They've learned not to put battery-operated clocks in the rooms, because the batteries drain within a couple of days. Sometimes, guests report the strong scent of roses in a room — not caused by an air freshener. Paranormal researchers say they have heard voices.
Now, a "for sale" sign hangs in the window, because the Khamees would like to retire for good and move to Florida. The ghosts aren't a liability — most of their customers are repeats who know the stories.
"Maybe in the 14 years we've had it, three people were at the front desk when they found out, and they said, I don't want to stay here. Nope — can't do it."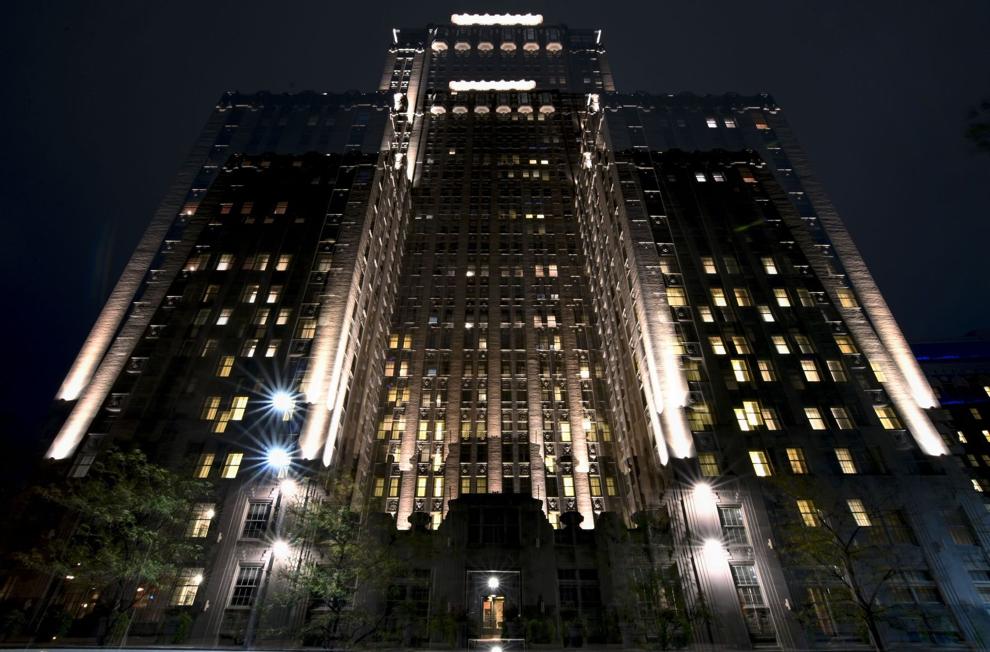 The Chase Park Plaza
The Chase Park Plaza hotel has loomed on the northeast corner of Kingshighway and Lindell boulevards for nearly 100 years, and legends such as Frank Sinatra, Elvis Presley and Jimmy Carter have walked its halls.
Sam Koplar built the Park Plaza Hotel, which joined with the Chase in the 1950s. "He used to roam the halls as it was under construction," said Ron Elz, whose radio career and interest in history has led to work at the hotel over the years. "It's said he still roams the halls."
Developer Jim Smith helped revive the hotel in the 1990s, and he worked with Elz to create the Legacy Room, a meeting space filled with photos and memorabilia that's now used as storage. Smith died in a plane crash in 2017.
Elz said he has felt Smith's presence there. "It's just like somebody's watching or about to come into the room to look around," he said. "One time I swore I saw him standing there looking in. I knew he was dead. It looked like him. I walked up, and there was nobody there."
Jeanne Venn has heard many ghost stories in her decades as concierge, especially one about a red-haired woman dressed in white. The story that's told is that she died by suicide on her wedding night in the 1930s, jumping from an interior window and landing on a terrace. Over the years, people have seen her floating over the terrace, her red hair and white dress flowing.
"Two people I knew pretty well saw her, and they had never heard about her," Venn said. "They were very distressed. It was not a happy moment."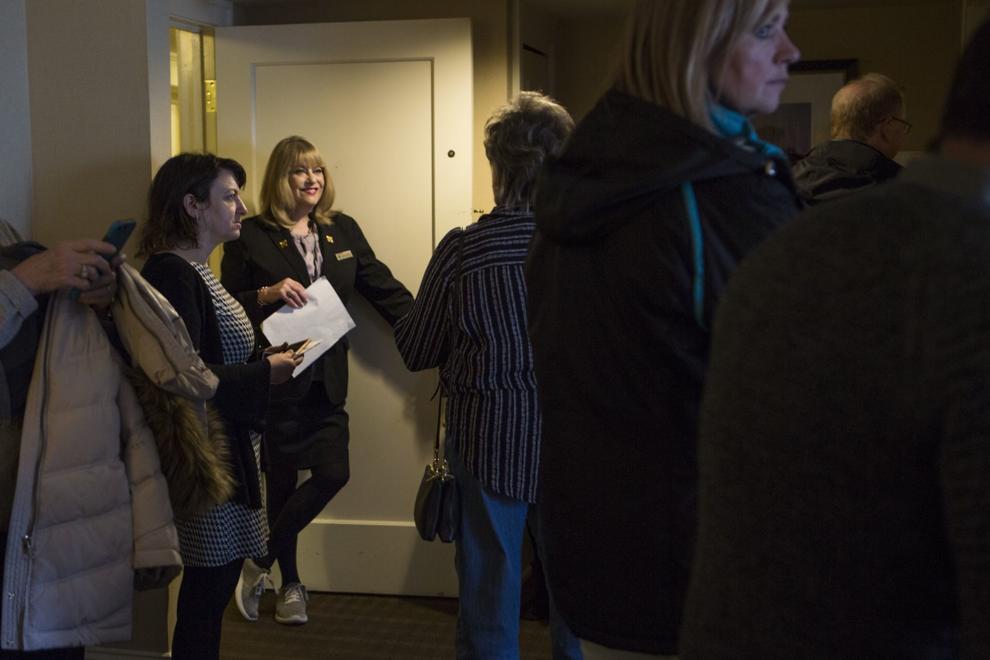 One woman who was living in the apartments that had been hotel rooms said she was awakened by a woman in a long, white dress with red hair, whispering in her ear. Another hotel worker who happened to stay the night there showed up late for his shift, nursing a broken arm and holding broken glasses. "He said he saw her in the mirror," Venn recounts. "He said he was so scared — he didn't know if she pushed him over. He fell into the bathtub and broke his arm and his glasses. He left the job."
Two security guards told Venn independently they often spotted a man wearing a bowler hat and old-fashioned clothes walking off the ground, moving through support posts, holding a walking stick. Venn wonders if the man was Chase Ullman, who built the original hotel.
Guests have reported items moved, or drapes closing or opening by themselves, a washer and dryer turning off and on by itself.
One well-known St. Louis businessman stayed in a hotel suite with this wife. "He came downstairs all atwitter," Venn said. "He said, 'There's a ghost in my room, she was standing by the curtains and she was talking to me.'" The next night he noticed a presence in between him and his wife in bed, and he could see the silhouette of a woman, who looked like Marilyn Monroe.
Another guest stayed in a two-bedroom suite, and the man heard the television turn on in the other bedroom, looked inside and saw the form of a person in the room.
"I know it hadn't been there before," the man told Venn. "Are you sure there's no other way to get in? I'm a scientist. I work for Monsanto. I don't believe in ghosts. But I'm leaving this hotel."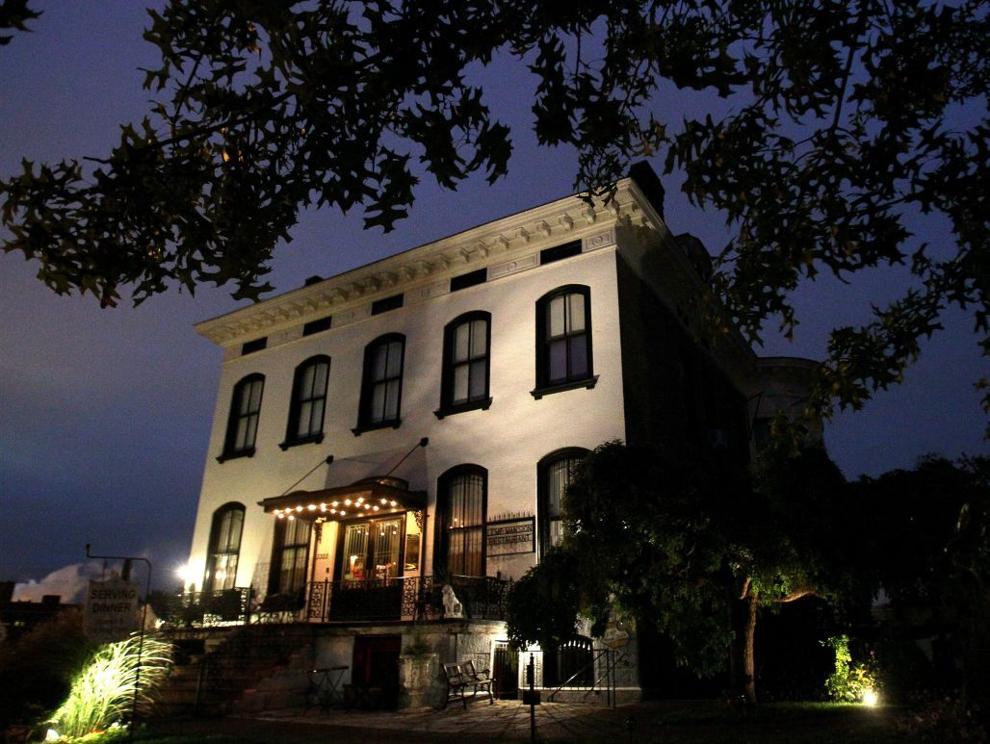 Lemp Mansion
When George Danish and other members of the St. Louis Paranormal Research society talk to people they call "sensitives" — those who seem to have a connection with the beyond — about the Lemp Mansion, they generally pick up on feelings of profound sadness and despair.
That's not obvious by watching tables of families passing along bowls of green beans and mashed potatoes at the mansion's family-style Sunday night chicken dinners, or the groups of friends laughing and celebrating a birthday in one of the guest rooms, or the nervously chuckling groups of tour groups holding up cameras, hoping to capture a ghost.
Adam Lemp, a German immigrant who settled in St. Louis in 1838, built a small brewery closer to where the Gateway Arch stands today. The family later bought 17 acres south of there, where they built a brewery over an expanse of caves. The proximity to the Mississippi River meant they could bring in ice from the river in winter and pack it in straw to keep the beer cold in the already-cool underground caverns.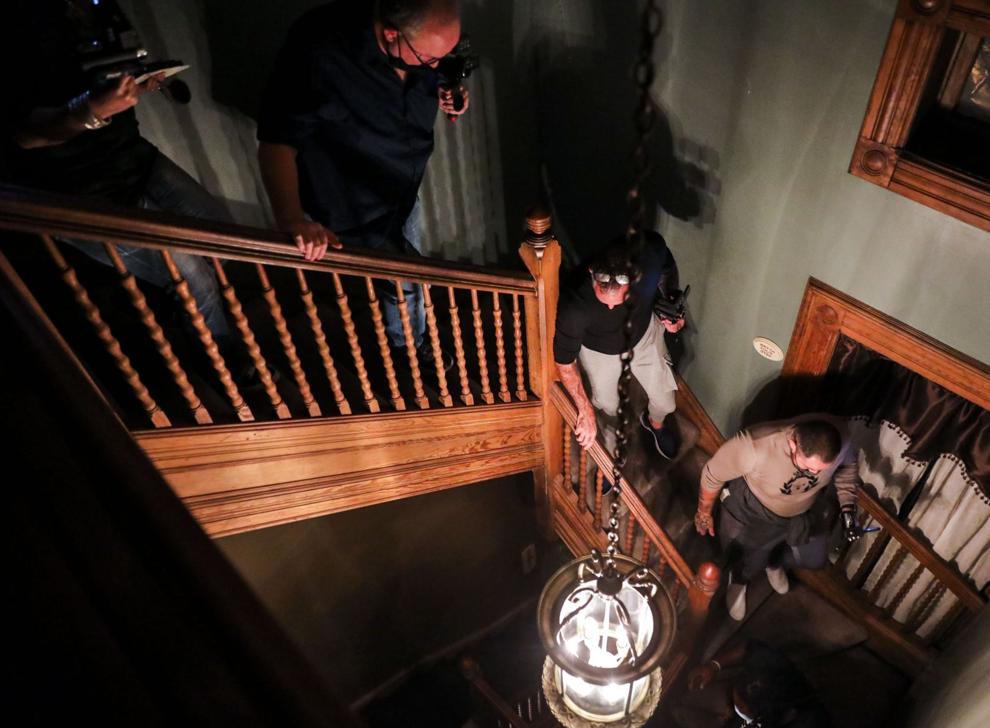 Lemp died in 1862, and his son William Sr. took over operations. He and his wife, Julia, moved into the mansion in 1876 and had eight children. Son Frederick was being groomed to take over the family business, but he died at age 28 of a heart aliment. In 1904, William Sr., depressed after that death and after the death of his good friend Frederick Pabst, shot himself in the head in an upstairs bedroom. His son William Jr., or Billy, took over the business and shut its doors during Prohibition. In 1920, his sister Elsa, reportedly despondent over her marriage, fatally shot herself in her Central West End home.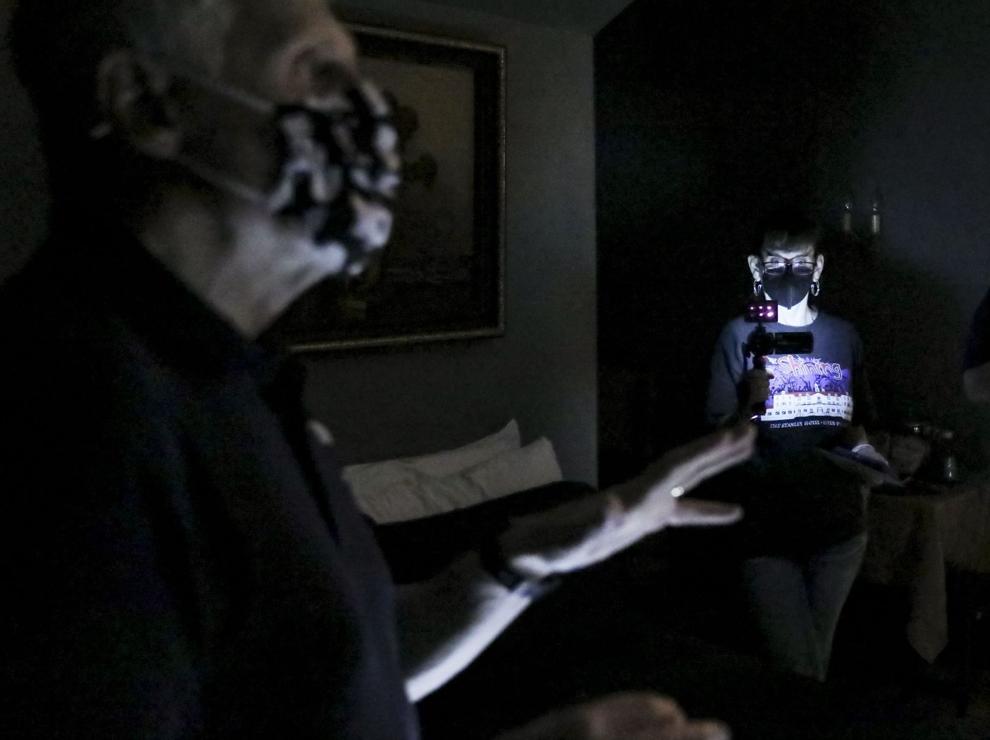 In 1922, Billy sold the brewery at public auction to International Shoe Co. Later that year, he shot himself in the chest in his office. "He gave up the family legacy, he got basically 8 cents on the dollar (for the brewery), and that was a big deal. That was his way out," Danish said.
Charles Lemp moved into the house in 1929 and lived there with his servants. He was a recluse and a germaphobe who shot and killed himself and his dog in an upstairs bedroom in 1949. He was the last member of the Lemp family to live in the house, which eventually deteriorated along with the neighborhood. The place served as a boarding house until the Pointer family bought it in 1975. The family renovated and restored it, turning it into a restaurant, bed-and-breakfast and dinner theater venue. Different people and groups lead ghost tours through the mansion.
Betsy Burnett-Belanger is a medium and spiritualist who has worked with the Lemp Mansion for more than 25 years and gives tours. She said she knows of nine identifiable spirits inside the house; some are Lemp family members, and some are from the boarding house era. One is of the dog that Charles shot. She thinks they appreciate what the current owners have done to the house.
"I know that they appreciate me," she said. "As soon as I walk into the door, I feel them — I feel them around me. Like, 'Something's going to happen because she's here. We like her; she tells our stories.'"
St. Louis Paranormal Research Society volunteers lead visitors through rooms, recounting the history and stories. They also do investigations at other venues and private homes. The group says it likes to put the "normal" in "paranormal," Danish said.
The ghostly sightings and happenings at Lemp are too numerous to mention: People have seen shadowy figures, captured hazy images in pictures, smell cigar smoke (some say it's Charles), see imprints of footsteps at the end of a mattress, and hear knocks, a single note of a piano and a dog barking inside.
Guests staying one recent night on the third floor, where servants used to live, reported the sound of tinkling bells — like servant's bells.
A few years ago, as Danish talked to a group inside the basement rathskeller, somebody made a video as he spoke. They spotted something strange in the video afterward: A hazy figure appeared behind Danish, an appendage like an arm reaching out.
Danish is a retired U.S. Army program manager who was used to a corporate, regimented work. "I couldn't walk around and say, 'Boss, this didn't work because of the ghosts,'" he said. "When I joined in 2015, I was absolutely a huge skeptic. I didn't believe at all. And now, I've got some stuff where" — he pauses and shakes his head — "I'm not a skeptic anymore."
"Paranormal, Ghosts, Hauntings" – Google News