Analysis: William Barrett was a Victorian physicist who also investigated supernatural phenomena in Ireland
By Shane McCorristine, University of Newcastle
Ireland has a rich culture of supernatural phenomena, ranging from ghost-hauntings and banshee wails, to fairy persecutions and Marian apparitions. Alongside popular folklore relating to the supernatural, Ireland was also home to some of the finest writers of horror and Gothic fiction, including Elizabeth Bowen, Bram Stoker, and Joseph Sheridan Le Fanu. Yet despite this bedrock of fascination in the otherworldly, Ireland was never really associated with scientific inquiries into paranormal phenomena.
Now known as "psychical research" or "parapsychology", scientific investigations into things like haunted houses and spirit communications spread globally in the late 19th century as a new generation of intellectuals who had lost their religious faith sought hard evidence that something lay beyond death. Although it is not widely known, dozens of intellectuals in Dublin engaged in psychical research during this period – testing psychics, photographing spirits, and even communicating with the dead.
Chief among these ghost-hunters was Sir William Fletcher Barrett (1844-1925), an English physicist who came to Dublin in the 1870s to teach physics at the Royal College of Science for Ireland on Stephen's Green. Barrett took up this role to advance his career in physics, but he also saw it as an opportunity to organise local initiatives to investigate supernatural phenomena. He was one of the many professional scientists deeply interested in psychical research around this time, and he moved seamlessly between his interests, lecturing on X-rays and electro-magnetism to undergraduates in Dublin on one day and participating in séances in London on another.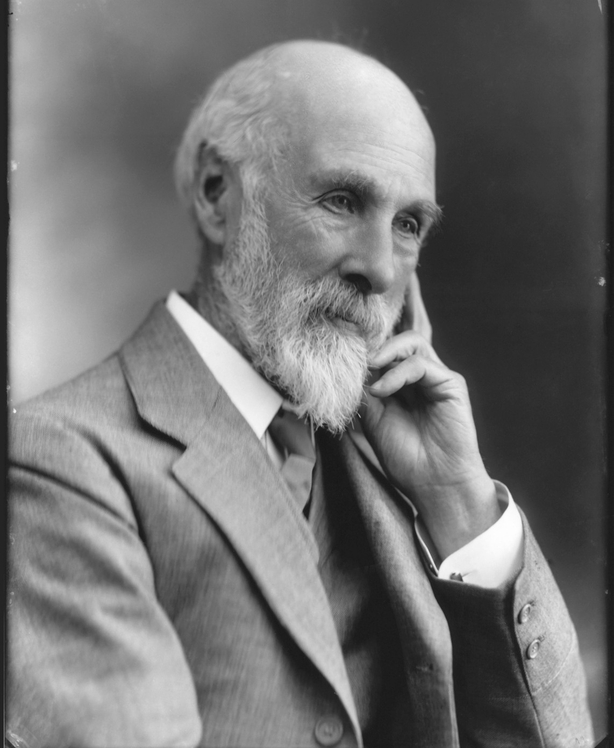 Barrett became a member of the Royal Irish Academy in 1874 and he built up connections through the society with Irish antiquarians and geologists who shared his interests in the supernatural. One such friendship led to a research trip that kick-started popular interest in "poltergeists" (German: "noisy ghost").
In 1877, Barrett visited Derrygonnelly, Co. Fermanagh, in the company of Thomas Plunkett, a geologist and archaeologist who had received a grant of £30 from the British Association for the Advancement of Science (BAAS) to explore the ancient limestone caves of the Lough Erne region. In an article written for the Dublin University Magazine, Barrett recounted how, after a day spent blasting rocks and sifting through pottery and bones, he and Plunkett visited a lonely old cottage which they had been informed was haunted.
The occupiers were a poor Methodist family which consisted of a man whose wife had recently died, his four daughters and a son. It was chiefly around the eldest girl, Maggie, aged about 20, that strange ghostly noises were heard. Barrett learnt that at first there were loud unexplained noises and rappings in the cottage, but recently the spirit had touched Maggie, dropped stones about the cottage, and even stolen and moved items.
We need your consent to load this rte-player contentWe use rte-player to manage extra content that can set cookies on your device and collect data about your activity. Please review their details and accept them to load the content.Manage Preferences
From RTÉ's Homeschool Hub, The Living Library reveals all about a meddlesome ghost in a spooky Fermanagh cottage.
Barrett and Plunkett decided to stay over in order to trace the origins of this "diabolical hullabaloo" which, the father informed him, occurred nearly every night. Barrett described hearing pattering, raps, "scratchings and other indeterminate sounds" emanating from the girls bedroom. Armed with a candle, Barrett observed the girls for trickery, but could find no sign: "at last, I mentally asked for a certain number of knocks: they were slowly and correctly given!" Barrett believed that such a link between mind and spirit gave him "just ground for believing that, after all, there might be here something in operation not dreamt of in medical science, nor compatible with a purely materialistic philosophy".
A characteristic concern in Barrett's report on the Derrygonnelly haunting was that he approached the matter scientifically, by accurately recording everything he saw and experimenting with candle-light. He was at pains to distance his mental condition from that of the family, presumably under stress from the death of the mother, writing "my nerves were not unstrung, and my hearing certainly did not deceive me".
Modern sceptics might disagree that Barrett's methods were objective and scientific, but strength of evidence at the time was linked to the credibility of the observer. To bolster this, Barrett telegraphed to Dublin to "an acute and careful observer" to join him in Fermanagh: "It was the Rev. Maxwell Close, M.A., a man honoured in Dublin for his great learning, remarkable critical insight and singular sobriety of judgement".
We need your consent to load this rte-player contentWe use rte-player to manage extra content that can set cookies on your device and collect data about your activity. Please review their details and accept them to load the content.Manage Preferences
From RTÉ Radio 1's Morning Ireland, a 1997 report on the exorcism of a poltergeist from a Co Galway home
Close was a vibrant figure in Victorian Dublin and his affiliations go some way to demonstrate how psychical research was integrated into the intellectual establishment in Dublin. He was president of the Geological Society of Ireland, an Irish language enthusiast, and had been the treasurer of the RIA for 25 years. Barrett reported that Close heard the same ghostly noises as he and Plunkett, though not as loudly.
So was this a case of juvenile trickery or the revelation of communication beyond the grave? Barrett remained on the fence but closed his account by urging people to keep investigating such matters in order to seek the "dry and pure light of truth". The following year, when the BAAS met in Dublin, a report on the exploration of the Fermanagh caves was submitted with Barrett's name attached. However there was no mention of the haunting, an indication that the BAAS organisers would not have appreciated any mixing between what they saw as legitimate science and these kind of supernatural investigations.
The Derrygonnelly case has been cited as one of the first modern poltergeist investigations, with Barrett more interested in the unconscious actions of the human mind than in stories of spirits or demons. We don't know what happened to the family afterwards, although Maggie reported that the disturbances continued for months afterwards. Barrett went on to develop psychological theories of the supernatural relating to Dowsing and telepathy, while also conducting cutting-edge scientific research on metals and sensitive flames in Dublin. Yet his investigation of a suspected poltergeist showed how even in rural Fermanagh the boundaries between science and the supernatural were still being teased out during this period.
Dr Shane McCorristine is a Lecturer in History in the School of History, Classics and Archaeology at the University of Newcastle. He is a former Irish Research Council awardee.
---
The views expressed here are those of the author and do not represent or reflect the views of RTÉ
---
"Paranormal, Ghosts, Hauntings" – Google News